News
Saturday, 20 January 2018 18:10
New for 2018: Memphis Luck!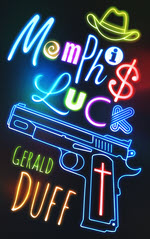 Brash Books is issuing Gerald Duff's newest offering, Memphis Luck, in 2018. Previously published as Memphis Mojo in 2014 by Lamar University Press, Memphis Luck is a substantially different, so get ready to re-join J.W. Ragsdale and Tyrone Walker as they investigate what they think is a straight-forward murder. As Brash Books further explains, "The clues lead them to an autistic teenager, an aspiring gang member, who talks to the ghosts of Martin Luthor King Jr. and singer Ricky Nelson for guidance. The troubled, homicidal teen has fallen into the thrall of cowboy preacher Jimbo Reynolds, a slick, bible-thumping, Stetson-wearing conman who has based his cash-cow ministry on ideals plundered from John Wayne movies. What Jimbo doesn't know is that he's the target of a gang of misguided ex-cons, led by a psychopathic Native American, who are plotting to take all of his cash...with the help of his greedy publicist and his conniving housekeeper. All of these colorful characters collide in a fateful day of darkly funny, brutal mayhem that's pure Memphis Luck."

Keep updated on Memphis Luck at the Brash Books site by clicking here.